Avoid The Maddening Learning Curve
You don't have time to waste. You've got Scrivener, the best writing app, but you're struggling to figure it out, or you just want to get to your most productive self as quickly as possible. Sound familiar? Then check this out.

Why The Learn Scrivener Fast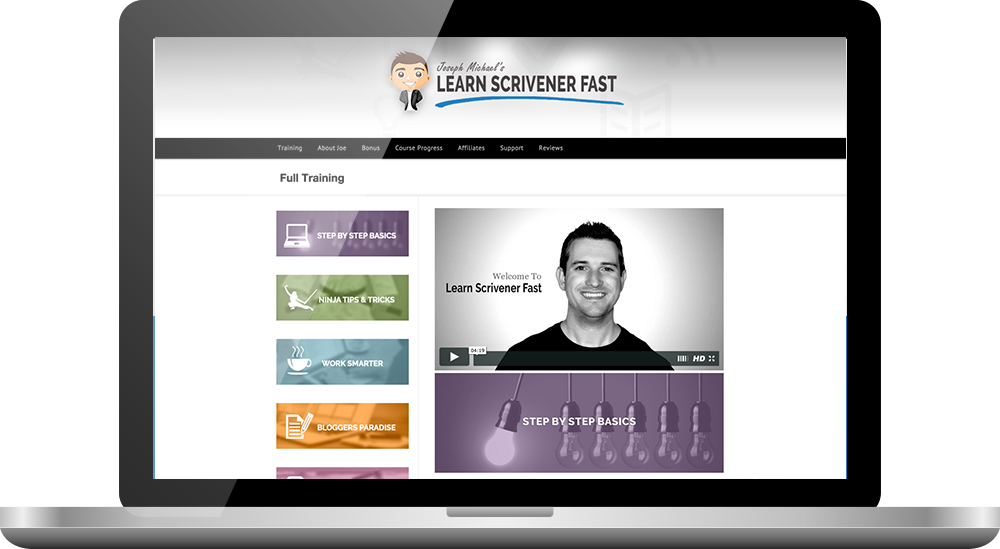 You've heard the buzz about Scrivener but
don't have time to learn another mind boggling software
.

      You've Scrivener but given up because of the learning curve.

      You're currently using Scrivener but have a nagging feeling that you are missing something by not using Scrivener to its full potential.

      Ultimately, you want to improve your productivity—Increase the quality and quantity of your writing.
Real Customer Testimonials
A Much Needed And Simple Resource
I have to say, before I found Learn Scrivener Fast, I had no idea where to go to get Scrivener info. This course solved all that for me. It is more than just a "here is a tool and how to use it" type of training resource, the inclusion of workflow tips and tricks for various types of writing jobs are real gems. Right out of the box you're able to learn which of the myriad of Scrivener features will most likely apply to you and your project.
FRED LUNJEVICH Learn Scrivener Fast Student
AND… If You Want To Keep Going
Here's A Little More About

      Access to Learn Scrivner Fast's online instruction platform

      Training Modules

      Videos

      Scrivener for Bloggers

      Work Smarter

      Drastically Improve Your Output

      eBooks

     30 HD Wallpaper Backgrounds

      Top 75 Tools & Resources

      Step by Step Basics

      Templates

      Community Support

      Planning and Outlining

      All Kinds of Bonus Material

      SO Much More. Full Details Below…